Elements Trio
Elements Trio represents a new standard in global chamber music, combining the unique talents of American saxophonist and composer George Brooks, north Indian violinist and vocalist Kala Ramnath and Wentink.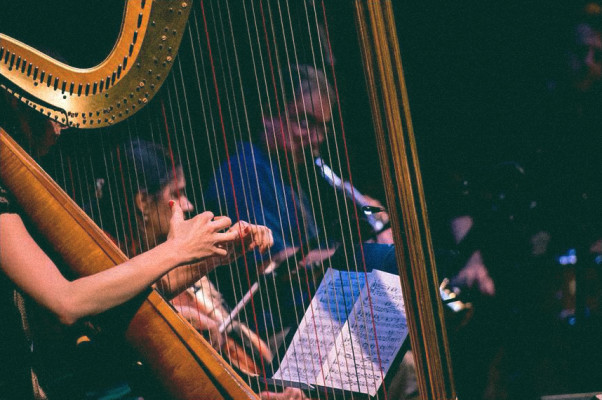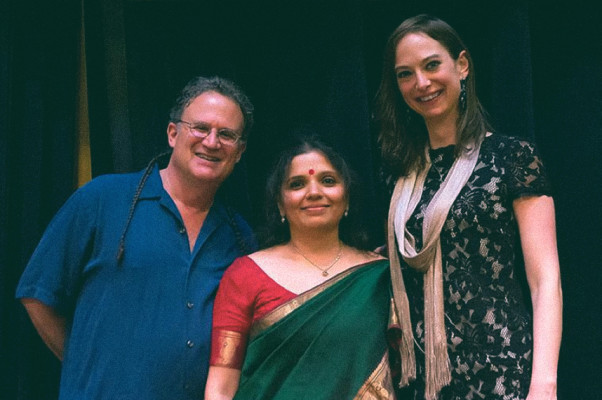 Elements Trio combines the unique talents of American saxophonist and composer George Brooks, north Indian violinist and vocalist Kala Ramnath and Dutch harp virtuoso Gwyneth Wentink.
This distinctive and adventurous trio bridges genres and techniques while drawing their inspiration from a wide spectrum of rich musical heritages. Innovative compositions inspired by Indian ragas, western minimal music and contemporary improvisation unify the esthetics of European, Indian and American classical and improvisation traditions, forming a new conversation of global chamber music.
After their initiation and first CD recording in 2012 with compositions of George Brooks and Kala Ramnath, a successful tour followed in 2013 with performances in Chicago, Los Angeles and San Fransisco. New material has been written by Brooks and Ramnath since then, resulting in the concept of 'Alchemy of Happiness'.
Descended from an illustrious musical lineage of seven generations, Kala Ramnath is considered the leading Hindustani violinist of our time. An outstanding classical soloist, Kala has performed in major concert halls throughout the world including Carnegie Hall, Queen Elizabeth Hall, Sydney Opera House, Theater de la Ville, Tropen Theater and the Palais des Beaux Arts. In addition to her traditional work, Kala has made significant contributions as a world music innovator, collaborating with Zakir Hussain, Ray Manzarek (Doors) and performing as a soloist with African ensembles, flamenco groups, and numerous symphony orchestras including the London Symphony and London Philharmonic. She is the founder of the group Raga Afrika, which is the first collaboration of Indian music and Afro-jazz.
Kala's recordings have garnered multiple Songlines' "Top of the World" awards (2004, 2006, 2008) and she was recognized by Songlines Magazine, along with Ravi Shankar, Zakir Hussain and Ali Akbar Khan, as one of the top fifty "world music" musicians. Kala's artistic achievements have been recognized with numerous awards from the Indian government including the President's Award and the Rashtriya Kumar Gandharva Sanman. She is a disciple of vocal guru Pt. Jasraj and in addition to her violin work she is a gifted and soul stirring vocalist.
George Brooks is a prolific and diverse saxophonist and composer, acclaimed for successfully bridging the worlds of jazz and Indian classical music. He is the founder of several important Indian fusion groups including Summit with Zakir Hussain, Fareed Haque and Kai Eckhardt, Bombay Jazz with Larry Coryell and Ronu Majumdar and the Raga Bop Trio with Steve Smith and south Indian guitarist Prasanna. Of particular importance are his collaborations with American composer Terry Riley, a fellow student of Indian vocalist Pandit Pran Nath, who has inspired George's approach to composition and improvisation. Brooks has performed throughout Europe, Asia and North America with India's most respected concert artists including Hariprasad Chaurasia, U Srinivas, Trilok Gurtu, Shujaat Khan and Shankar Mahadevan, as well as jazz, blues and pop luminaries John McLaughlin, Jaki Byard, Etta James, Talvin Singh, Ray Manzarek (Doors), the Temptations, and many others.
In addition to his acclaimed recordings of original compositions George has composed and arranged for Zakir Hussain, Yo-Yo Ma, the Liverpool Philharmonic, the Mark Morris Dance Company and Merchant Ivory Productions. In 2007 he received the American Composers Forum Continental Harmony Prize commissioning him to write the music for the opera "Mirrors of Mumbai – a Tale of Modern India". In 2008 he received ACF's Northern California Commissioning grant for "Double Moiré" an evening length work featuring original beat poet Michael McClure and jazz trio. In 2010 the SFMOMA commissioned "Alphorn for Hans" as an "artist response" to the museum's new rooftop sculpture garden.